Products Description
Comments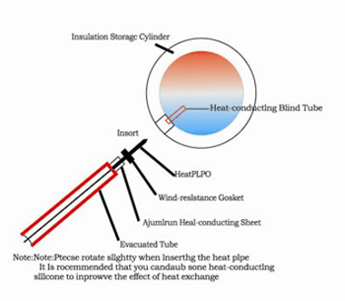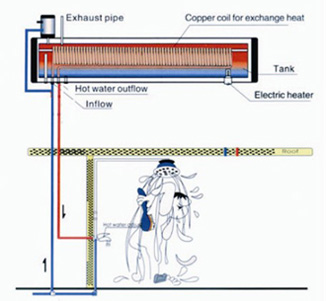 Integrated and pressurized solar water heater I combined the Advantages of Non-pressure solar water heater and separated pressurized solar water heater together. This system adopts heat pipe instead of evacuated tube combined with pressure-bearing storage tanks, this product improves the problems, such as, limited hot water volume, long heat time, few water output etc.The twice heat exchange technology makes the high temperature, high efficiency and fast & large amount hot water circulation come true.
The system can bear certain amount of pressure thus the running water can directly connector with the inlet, when opening the valve, cold water flow through the inlet and then to the cooper coil, the hot water inside the water tank play the role as hot resource and do heat exchange via copper coil with the cold running water, during this process the cold running water been heated to hot water.(The temperature maybe ≤5℃ lower than the hot water in the water tank).All the storage tanks should be tested as tested pressure of 1.2 MPa(12 bar) and the working pressure is 0.6MPa(6 bar).The daily efficiency is over or equal to 55%.
Note: all the accessories (intelligent controller, assistant tanks etc.) can be installed according to different needs.
Specification:
(we can customize according to customers' requirement)
-Inter tank: SUS 304-2B food grade stainless steel with thickness of 1.0-2.0mm
-out tank: stainless steel/galvanized steel/colour steel
-capacity: 90-350L
-Evacuated tubes: dia.47mm*1500mm, 58mm*1800mm with heat pipe
-Insulation layer thickness: 55mm
-Bracket: galvanized steel with thickness of 1.5mm-1.8mm
-heat preservation: 72 hrs
-Hail resistance: 25mm
-working pressure: 0.6MPa