Products Description
Comments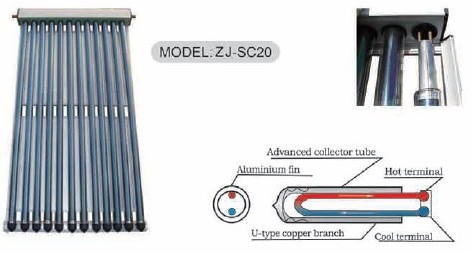 Evacuated tubes covert solar energy into thermal energy that is transferred to copper U Pipes by an aluminum fin with high solar energy absorption and low heat radiance loss.
Uses an electrical heater to heat water during cloudy day or at night, liguid (pure water or glycol) in the U pipe heats up, and the U pipe conducts thermal energy to the water inside the storage tank through internal copper coils.
As the water temperature can be adjusted using an automatic controller, user can get hot water all day long.
Solar water heaters can still work even with several tubes broken. With a testing pressure of 12 bar, this system has a working pressure of 6 bar.
appellation

Gu-2.0-58×1500/12

Gu-2.4-58×1500/12

Type of class Tube

φ58×1500mm

φ58×1500mm

Number of Tube

12

12

U copper Type

φ10×0.6mm

φ10×0.6mm

Insulation

CFC Free

Fluid Type

Glycol solution

Fluid content

2.7SL

3.1SL

Tested pressure

12 bar

12 bar

System pressure

6 bar

6 bar

Cut length of efficiency

=50%

=50%

Length/width/Height

1724×1000×185mm

2024×1060×185mm

Net Weight

40kg

50kg

Packing Dimension

1760×1100×200mm

2060×1100×200mm

Gross weight

50kg

60kg