Products Description
Comments
The basic Non-pressure system SWH is a passive system, which relies on a natural principle-Theermosiphon.There is water in evacuated tubes and free to flow into tanks. When the water in tubes is heated by sun's rays firstly, this makes water in the tubes lighter.
Therefore the cold water in the tank move downwards and hotter water move upside into the tank. It is an open circuit since the air vent and the overflow pope is open to the air.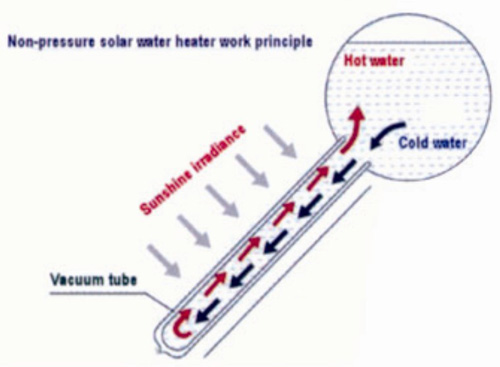 All the storage tanks are tested before leaving with tested pressure of 0.05Mpa (0.5bar).But the operation pressure should be 0 Mpa. The daily efficiency is over or equal to 50% normally and 42% in winter. We welds the inner tank by high-frequency ring or argon arc techniques.

Specification
: (we can customize according to customers' requirement)
-Inter tank: SUS304-2B food grade stainless steel with thickness of 0.4mm
-out tank: stainless steel/galvanized steel/color steel
-capacity: 90-350L
-Evacuated tubes: dia.47mm*1500mm, 58mm*1800mm
-Insulation layer thickness: 55mm
-Bracket: galvanized steel with thickness of 1.5mm
-heat preservation: 72 hrs
-hail resistance: 25mm
-Working pressure: 0 Mpa
-Electric heating with 1500W (optional) and stainless steel as reflector (optional)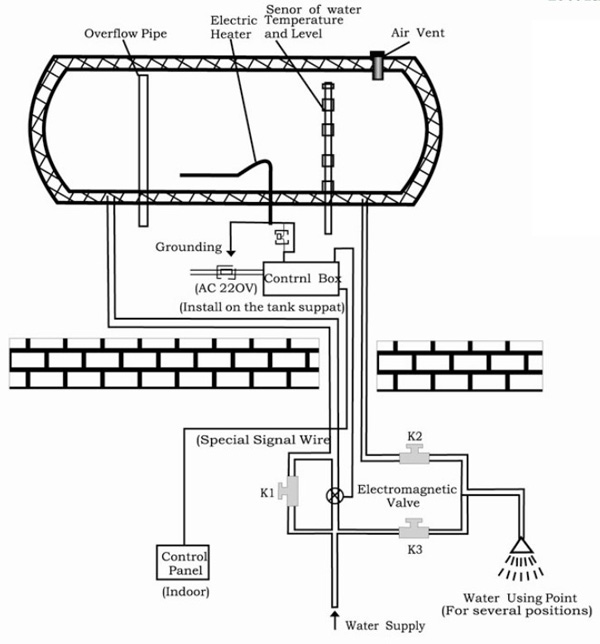 1. with intelligent controller
Advantage: automatic supplying water into the tank when the water in the tank is below a certain value.Also.other functions includes water temperature, water level display, auto power-off the electronic heating device.
2. with assistant tank
Advantage: Automatic supply water is conducted through mechanical way by installing an assistant tank (5L,8L and 10L).in addition,com-bined valve could mix hot water with loading cold water fully, preventing shower water now hot now cold.