Products Description
Comments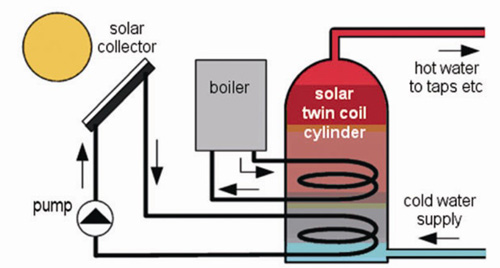 The split pressure solar water heater is a split system, where the collector is separated from the storage tank. It is flexible assembly, combined with build-ing perfectly. The system consists of storage tank, solar collector and work-ing stations.
Two heat exchanger models can be used for houses which have been already equipped with other energy source (e.g.gas, boiler etc).When the weather is cloudy or raining for a period of time, the water can be heated by upper heat exchanger sourced by other energy. All the storage tanks should be tested as tested pressure of 1.2MPa (12bar) and the working pressure is 0.6MPa (6 bar).The daily efficiency is over or equal to 55%.
Solar collector gathers energy and heat the medium material in the copper pipe, the medium transfers the heat to the water in pipeline the solar collector. When there is temperature difference (settled by customers) between the two sensors in collector and tank respectively, intelligence controller activates the circulation pump automatically, and forces the flow of heat medium in the pipeline and do heat exchange with the water inside the tank, via copper coil in the storage tank. In case the temperature of the water tank does not reach T-max,then start the auxiliary heating device.